NCA's Standards For Accredited Members, 2017 Edition
The Standards for Accredited Members, 2017 Edition, comprising 10 individual standards and representing the work of more than 70 child abuse intervention professionals and experts working from the latest research, are the benchmarks by which Accredited Members of NCA are measured. These standards took effect January 1, 2017, and will remain in effect until December 31, 2022. Currently, new accreditation and re-accreditation applications continue to be measured against the 2017 edition of the Standards, shown below in red.
The Putting Standards into Practice, 2017 Edition, features all the content of the 2017 Standards for Accredited Members plus real-life Practical Approaches to help new and transitioning CAC leaders and those approaching the accreditation process for the first time to conceptualize the myriad ways CACs can meet each standard. It's not an exhaustive list of possible approaches, but rather a way to start the conversation of how centers can meet each standard in a way that fits their strengths and situation.
NOTE: While new applications are currently being evaluated against the 2017 edition, NCA encourages existing Accredited CACs to begin working toward meeting the new National Standards for Accreditation for Children's Advocacy Centers that will take effect January 1, 2023. The 2023 edition and its companion Putting Standards into Practice are available to read online or download as a PDF.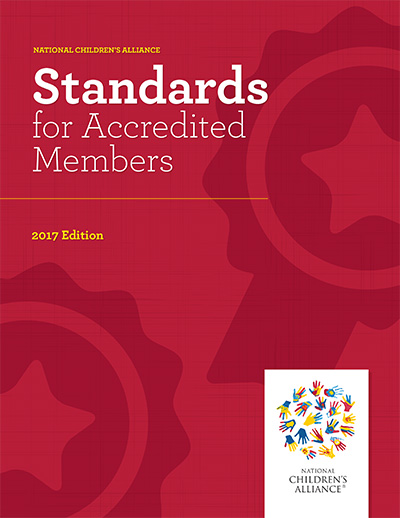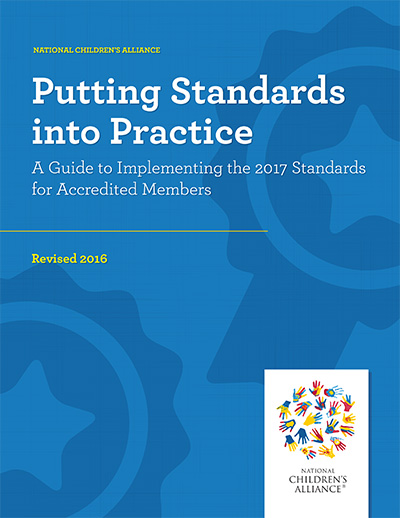 Both books may be printed for distribution by NCA members free of charge. Hard copies of the red book are available for sale at cost. Contact our Accreditation team accreditation@nca-online.org with questions or to purchase full-color, bound copies.