NCA CEO Teresa Huizar
Teresa Huizar, National Expert on Child Abuse Intervention and Trauma Treatment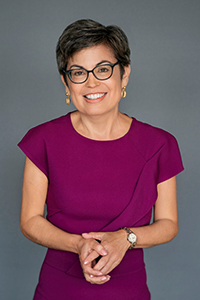 Teresa Huizar (pron. WEE-zar) is chief executive officer of the Washington, D.C.-based National Children's Alliance. She has served at every level in the Children's Advocacy Center (CAC) movement, beginning her career in 1993 at a CAC in Colorado developing psychoeducation curricula. She subsequently served in executive roles at the local center, the State Chapter, the Western Regional center, and finally with the national organization, which she has led since 2008. Over the course of her career in the movement, she has successfully advocated for the passage of legislation and policy initiatives that help child victims of abuse at the local, state, and national levels.
Teresa is the host of our One in Ten podcast, engaging in in-depth interviews with some of the brightest minds in science, law, medicine, morality, and messaging working on solving one of the world's toughest challenges—child abuse.
She is available for comment or to provide background on national and local stories about child abuse that relate to its investigation, the consequences of abuse, evidence-based treatments that heal the trauma of abuse, justice for abusers, and the community responses that help restore childhoods and families. Teresa has appeared on national programs and been quoted in dozens of stories, including:
Fortune

, February 10, 2022, Here's how we can all really save the children from abuse

Houston Chronicle

, November 1, 2022, How the abandoned brothers in deadly Houston case 'fell through every crack' caused by COVID

The Hill

, September 13, 2020, COVID-19 has kept abused kids from the help they need — Congress can help

Washington Post

, August 19, 2020, The centers helping child abuse victims have seen 40,000 fewer kids amid the pandemic

MarketWatch

, May 7, 2020, How the stress and isolation of coronavirus could create 'a perfect storm' for child abuse and neglect—and what you can do to help

Milwaukee Journal Sentinel

, May 7, 2020, "No one is there to point it out': Experts say more child abuse is likely happening — but with kids at home, it's not being reported

Augusta Free Press

, July 4, 2019, Spanberger, Meadows END Network Abuse Act cracks down on child porn

Vice News

, May 3, 2019, The Mormon Church has been accused of using a victims' hotline to hide claims of sexual abuse,

InvestigativeTV

, April 2019 syndicated TV package, "Children abused, families move"

Deseret News

, March 28, 2019, "Inside the story of how one Utah Orthodox rabbi's decision to talk about sex abuse is bringing change to the world"

Columbus Dispatch

, March 9, 2019, "Victims of abusive priests won't likely see justice, experts say"

Buzzfeed

, February 6, 2019, "A Judge Called A 13-Year-Old Victim The "Aggressor" In A Sex Solicitation Case With A 67-Year-Old Man"

The Baltimore Sun

, January 30, 2019, "Maryland man gets 420 years for 'horrific' child abuse"

CNN

, August 24, 2018, "Under cover of goodness: How pillars of the community can prey on kids"

The Philadelphia Inquirer

, August 20, 2018, "When Institutions Treat Scandals as PR Risks, Victims Suffer Most"

The Washington Post

, July 31, 2018, "The Damage Caused by Protecting Institutions Instead of Individuals"

The Huffington Post

, February 26, 2017, "The Conversation We Need to Have about Milo, Child Sexual Abuse, and the Myth of Consent"

Staunton (Va.) News Leader

, April 26, 2016, "Prey"

NPR's On Point

, June 3, 2015: "Secrets And Realities Of US Child Sex Abuse"

The Huffington Post

, August 28, 2015: "When Child Sexual Abuse Is in the Public Eye, Don't Lose Sight of the Children"

NBC News

, June 4, 2015: "Did Duggars Do the Right Thing When Son Confessed to Sex Abuse?"

The Wall Street Journal

, February 14, 2012: "Delicate Questions of Abuse"

USA Today

, November 4, 2015: "Adrian Peterson Could Help Other Parents Learn"

Sports Illustrated

, July 2, 2012: "Light from the Darkness"
Under Teresa's leadership, National Children's Alliance ensures the highest standards of practice, anchored in evidence, for CACs delivering comprehensive care to child victims of abuse. The national association and accrediting body for more than 900 Children's Advocacy Centers and 50 State Chapters, NCA provides training, technical assistance, financial support, and access to innovative research and education to improve outcomes for children. NCA represents the CAC movement on Capitol Hill and to the federal agencies that support CACs. NCA also leads special projects in mental health treatment and issues such as child sex trafficking and child-on-child abuse.