Vision28: Our Five-Year Strategic Plan, 2023-2028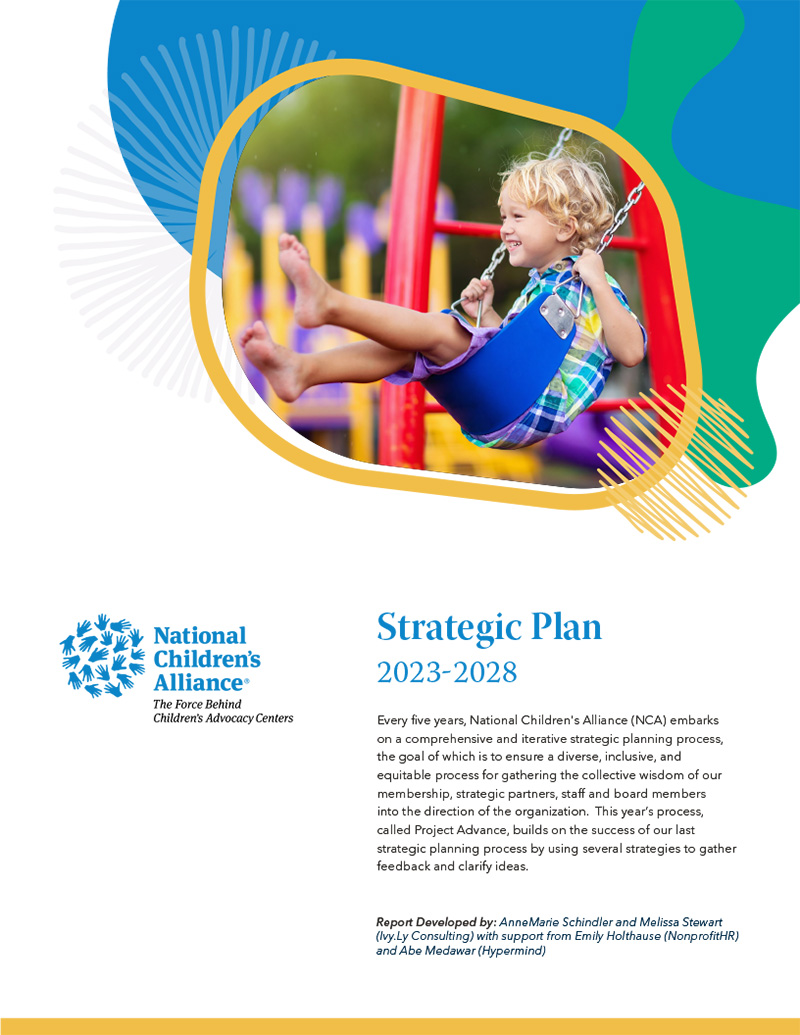 To arrive at a common destination, we need a map of where we're headed. As we do roughly every five years, the Children's Advocacy Center (CAC) movement gathered through a National Children's Alliance (NCA)-led project to collect the most impactful and doable ideas from our members, partners, staff, and volunteers. Our new strategic plan, now that we're done, represents the results of an inclusive process that invited everyone with a stake in our work an opportunity to shape our future together. Collectively, we settled on five strategic priority areas that will serve as the starting point for every NCA project, as the basis by which we judge our collective and individual performance, and as a litmus test that guides what work we choose to take on. Here are these five strategic priorities. (There is no order of importance; all priority areas are interdependent and equal in weight to the others.)
Our Five Strategic Priorities
Strategic Partnerships. NCA acts as a strategic convener of organizations and agencies across the child abuse intervention space. We serve as a collaborative partner in the wider child maltreatment field, including prevention. NCA leverages our collaborations and partnerships to strengthen the CAC model, advance practice in the field and to improve how children and families from all backgrounds and geographic locations are served.
Strengthening Practice. NCA advances consistent, inclusive, evidence-supported practice across the field to ensure access to high-quality care and improved outcomes for child victims and their families. We do this through accreditation of CACs and Chapters, measuring outcomes, disseminating advances in science, and addressing service inequities and gaps.
Awareness and Capacity Building. NCA amplifies the voice and lifts up the work of CACs and Chapters through advocacy, grantmaking, marketing, and providing opportunities for peer-sharing. These supports are tailored to the needs of the field and address our diverse audiences.
Leadership and Workforce Development. NCA values growing a strong and innovative workforce. By partnering, collaborating, and convening, NCA provides education and training opportunities to nurture a best-in-class workforce that strives to reflect the children and families it serves.
Organizational Excellence. NCA is committed to organizational excellence, ensuring a fiscally sound and effectively governed organization with a strong and innovative workforce that creates value for its members.
The strategic plan is in effect now through December 31, 2027. A detailed report on the plan process including methodology and full data tables of participant responses will be available in Q1 2023.
Our previous plan
Explainer: How we chart a course every five years