Media Room
How we can help you tell your story
National Children's Alliance (NCA) makes a difference, one child and voice at a time. As a not-for-profit membership and accrediting organization providing comprehensive care through 900 Children's Advocacy Centers (CACs) and 50 State Chapters nationwide, we unify and amplify our voices to command better outcomes. With a forward-thinking approach that stays at the forefront of every child's future, we are the beginning of child abuse's end.
We are also a trusted reporting source for national and regional media. Our national model mirrors the local CAC model: we bring together the professionals that help children all in one place. Just as a CAC serves as its community's expression of care for children by gathering law enforcement, child welfare, medical, mental health, and other experts, CAC gathers the top national institutions and thinkers from across our movement to help lead children to a brighter future that follows the latest science.
See our appearances in the news
National Statistics on Child Abuse
NCA keeps many national and state statistics on child abuse and the delivery of services to help kids and families affected by it. Visit our national statistics page to learn the scope of the problem, how it impacts kids, figures that may surprise your audience, and more, by the numbers.
See national child abuse statistics
Our resident expert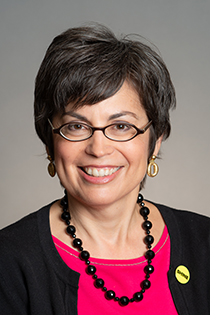 NCA Executive Director Teresa Huizar is one of the nation's premier experts on child abuse and our nation's system of child abuse intervention. She's a seasoned interview subject, quoted in America's major national and regional outlets, opinion clippings, and with appearances on top broadcast programs. She also hosts our One in Ten podcast, the #30 social sciences podcast in the U.S., engaging the brightest minds dedicated to solving one of the world's toughest challenges: child abuse. Teresa is our principal spokesperson and is pleased to speak with media covering all geographies and beats.
Learn more about Teresa, our resident expert
Contact us
We are the national authority on the comprehensive response to child abuse. That means we have the expertise and connections to help you tell the story: from the academy to in-the-weeds, from national and state perspectives to the deeply human and personal side of the work of helping children recover, we have an immense network to help you tackle this thorny issue. If we don't know the answer to your question, we know who will.
Please explore our online media room for more, and get in touch: please contact our director of communications, Blake Warenik at bwarenik@nca-online.org, or at 202.548.0090 x122.
Digital Media Kit (NCA Fact Sheet, National Statistics Sheet, Suggested Story Angles, Multimedia information)
NCA in the News