#ItsYourBusiness
Child abuse thrives when good people decide it's none of their business.
During the pandemic, many kids are trapped where they're most likely to suffer abuse, and kept away from the caring professionals who usually spot and report it. In fact, our statistics show that this year, our member CACs reached some 32,000 fewer children during the first half of the year than they did last year. We usually serve more and more children every year, but with fewer reports, child abuse victims aren't getting the help they need and deserve.
It's your business.
Do something. You may be the only one who will.
Here are three steps you can take to help kids now.
Step 1: Learn the signs of abuse.
Here are 10 signs of abuse. look out for them, and make the report when you see them.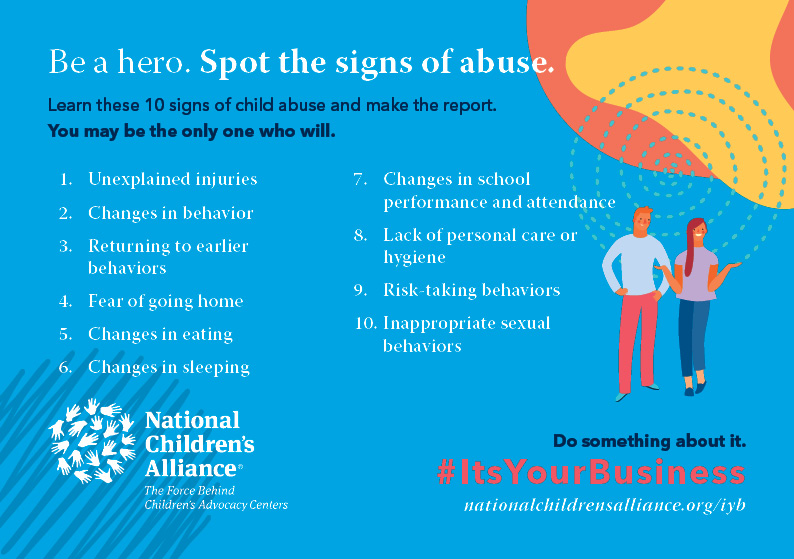 ---
10 signs of child abuse
Unexplained Injuries Visible signs of physical abuse may include unexplained burns or bruises in the shape of objects. You may also hear unconvincing explanations of a child's injuries.
Changes in behavior Abuse can lead to many changes in a child's behavior. Abused children often appear scared, anxious, depressed, withdrawn or more aggressive.
Returning to earlier behaviors Abused children may display behaviors shown at earlier ages, such as thumb-sucking, bed-wetting, fear of the dark or strangers. For some children, even loss of acquired language or memory problems may be an issue.
Fear of going home Abused children may express apprehension or anxiety about leaving school or about going places with the person who is abusing them.
Changes in eating The stress, fear and anxiety caused by abuse can lead to changes in a child's eating behaviors, which may result in weight gain or loss.
Changes in sleeping Abused children may have frequent nightmares or have difficulty falling asleep, and as a result may appear tired or fatigued.
Changes in school performance and attendance Abused children may have difficulty concentrating in school or have excessive absences, sometimes due to adults trying to hide the child's injuries from authorities.
Lack of personal care or hygiene Abused and neglected children may appear uncared for. They may present as consistently dirty and have severe body odor, or they may lack sufficient clothing for the weather.
Risk-taking behaviors Young people who are being abused may engage in high-risk activities such as using drugs or alcohol or carrying a weapon.
Inappropriate sexual behaviors Children who have been sexually abused may exhibit overly sexualized behavior or use explicit sexual language.
These aren't the only signs, but they're great examples of what to look out for, what to ask kids and family members questions about, and what types of changes in behavior you can expect to put yourself in the prevention mindset.
---
Step 2: Learn the facts about child abuse.
Educate yourself and others about where child abuse usually happens, who usually perpetrates it, and what special challenges kids face during this tough time when their lives have been interrupted.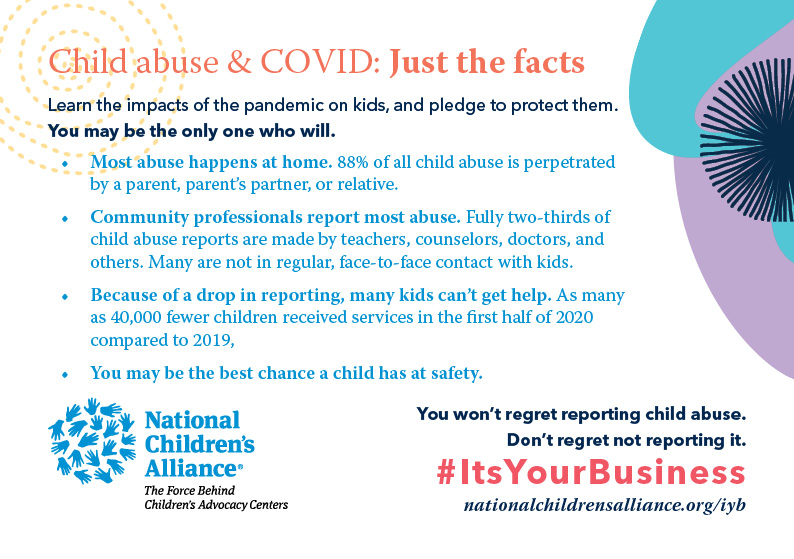 ---
Despite public perceptions, most child abuse doesn't happen at the hands of strangers or kidnappers. Human trafficking is a serious concern for at-risk youth, but it's extremely rare compared to the ordinary, all-too-common child abuse that happens behind closed doors, mostly at home, mostly at the hands of parents and relatives. If we don't look out for and report abuse where most of it occurs, we are missing the chance to help the vast majority of children suffering in silence.
See our national child abuse statistics and sources
---
Step 3: Make the report.
Even if it's just a suspicion of child abuse, gather your information and make the report to your local authorities.
If you want to know more about how the process of serving children and families works, and what resources and experience the child will have in our care, contact your local Children's Advocacy Center (CAC).
---
These 900 community care centers across the country help authorities investigate suspected abuse fairly and in a child-centered way, and continue to provide mental health, medical, and other needed services long after the initial interview is over.
You should always report suspected child abuse to law enforcement or child welfare authorities in your area, but the CAC can help walk you through the process and tell you what to expect.
You won't regret making the report. Don't regret not making it.
---
Bonus step: Rally your community.
You're only one person. But you have everything it takes to build an abuse-proof community.
To ensure no child is left to suffer in silence, and to raise a visible army of support for kids, as many people as possible need to take these three steps. Share these memes on your social media networks, pages, and accounts, link people to this page, and have these critical conversations with your friends, family, and neighbors.
Click on each meme below to view it or download it to share. They're sized perfectly for Facebook or Twitter sharing. Link to nationalchildrensalliance.org/IYB for It's Your Business.
The next time someone tells you, "it's none of your business," you can confidently say, #ItsYourBusiness. It's my business. It's everyone's business.