NCA & the FBI
NCA and its Accredited Member Children's Advocacy Centers (CACs) entered into a partnership with the FBI in 2015 to ensure that all children who need an evidence-based intervention that helps them heal from abuse have access to the services of a Children's Advocacy Center. This partnership also ensures that our law enforcement partners have the resources they need to investigate and prosecute federal child abuse cases. Our Memorandum of Understanding (MOU) with the FBI enables offer our intervention model to children victimized in federal cases as well as state and local cases.
Below, you can see the MOU and a presentation on our partnership with the FBI. CAC leaders can also click "Participate" to learn more and join the CAC partnership to serve children victimized in federal cases and provide resources to federal agents helping children in the field.
Accredited Member centers can voluntarily participate according to the expectations as summarized below and fully outlined in the MOU.
And don't forget to watch our January 2020 webinar on CACs and Federal Partners: Working Together on Commercial Sexual Exploitation of Children Cases. It features a CAC staff member, forensic interviewers from the FBI and Homeland Security Investigations, and a victim specialist from the FBI. The webinar is available on-demand at NCA Engage (login required).
Frequently Asked Questions
For answers to common questions, read our FAQ section here.
Where Are Centers Working with the FBI?
Click below to see an interactive map of all NCA Accredited Members currently participating in the partnership with the FBI.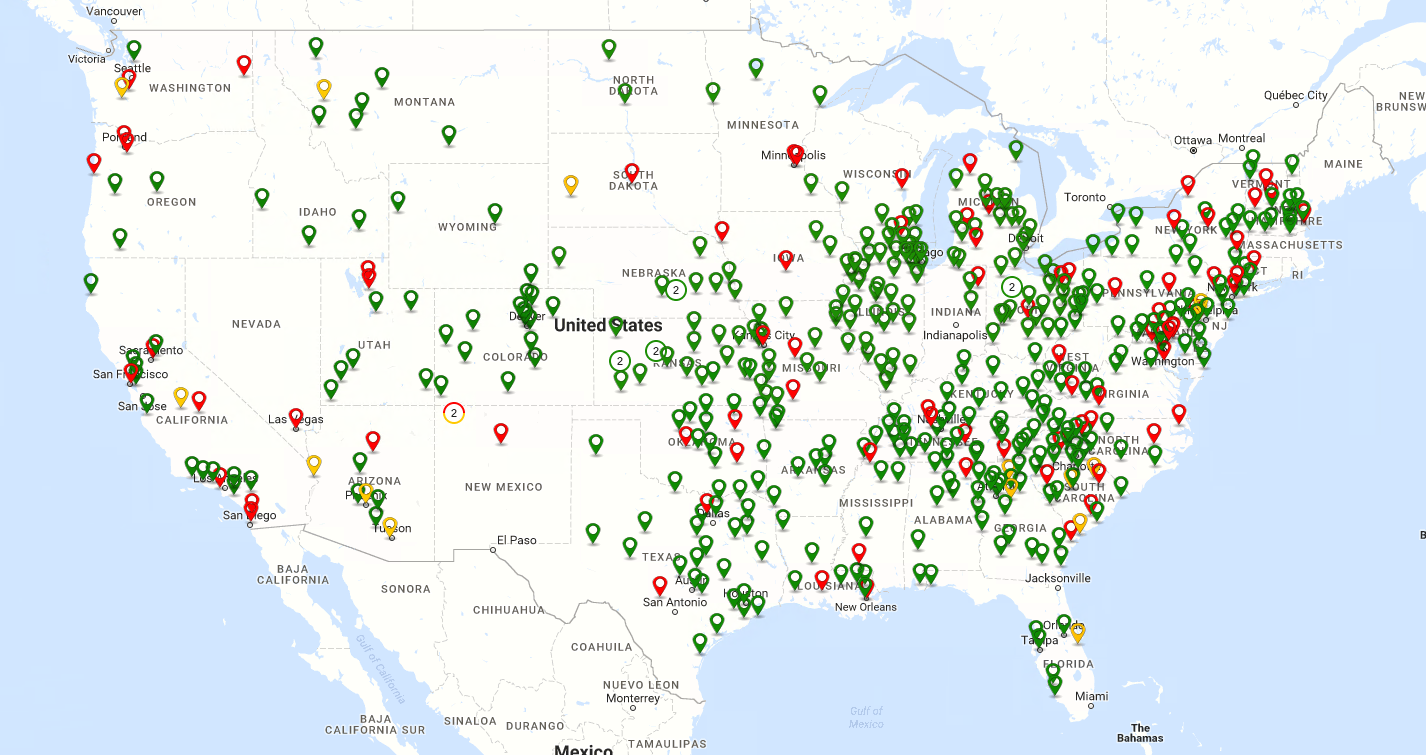 What's in the FBI Agreement?
NCA has agreed to:
Establish a working relationship between NCA/Accredited CACs and the FBI.
Encourage membership to develop evidenced based FI collaboration with FBI.
Provide a liaison between the FBI and local CACs to troubleshoot and address concerns regarding the implementation of the MOU and regarding FBI led investigations/interviews of children.
Provide training on the MOU to interested Accredited CACs, Chapters, and other stakeholders.
Invite eligible CACs to voluntarily participate in the MOU and to provide the FBI with information about those that want to participate in the MOU.
Accredited Member centers voluntarily agreeing to participate in the MOU:
Allow FBI Court-Appointed Forensic Interviewers (CAFIs) to utilize the CAC space to conduct interviews when available and consistent with NCA Standards.
If able, provide after-hours access for FBI interviews.
When requested and able, to provide a CAC interviewer.
Consistent with NCA's Standards for Accredited Members victim advocacy standard, the CAC or FBI victim specialist (as determined by the needs of the case) ensures services are provided to the family.
Consistent with NCA's case review standard regarding law enforcement participation, the FBI CAFI, agent, or victim specialist will be notified of case review and invited to participate. Conversely, FBI cases will not be case-reviewed without such notification or presence.
May be permitted to view an FBI-conducted interview.  However, the decision will be made by the FBI based upon legal restraints.
The FBI has agreed to:
Triage their cases to determine the best interviewer, location, and time.
Ensure their CAFIs meet NCA's Standards for Accredited Members forensic interviewing standard.
Ensure CAFIs will not conduct an interview without a law enforcement (typically an FBI agent or FBI task force member) officer present.
Ensure CAFIs will follow the FBI interviewing protocol within the CAC environment; to include:

Presenting evidence (Read NCAC's position paper on presenting evidence in a forensic interview)
Interviewing victims who have not disclosed
Recording of interviews
Forensic interviews of "compliant victims"

Preserve and maintain all recordings of their interviews conducted at CACs.  No other recordings may be maintained.
Ensure FBI Victim Specialists will work with CAC staff to provide services for the family as needed.
Next Steps
Thank you for your interest in the NCA's work with the FBI. Ultimately, NCA's goal is to ensure all children, no matter the investigating agency, have access to a CAC. With questions or to discuss the MOU in more detail, please contact Kaitlin Lounsbury at klounsbury@nca-online.org.