Annual Reports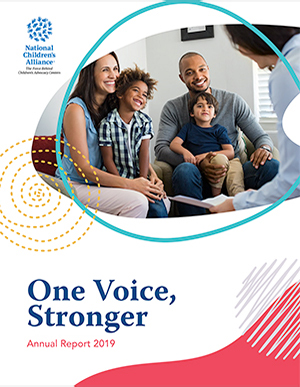 As the membership organization and national accrediting body for Children's Advocacy Centers (CACs), National Children's Alliance (NCA) champions collaboration to improve kids' lives. That was never more obvious than when COVID-19 turned our world upside down and NCA convened CAC leaders and subject matter experts from a variety of fields to innovate ways for CACs to deliver vital services to children and families. Our North Dakota members, who are now helping us teach CACs about telehealth technology, are featured in one of the five profiles in Annual Report 2019:
"This is a different kid" is a look at how North Dakota is using iPads and laptops to provide mental health services to kids at home or in school, eliminating barriers to care in a rural state with 53 counties and only three CACs.
"We're all here for the same reason" explores how a CAC and a military base in Washington state teamed up to make sure all kids in their community have access to the care they need.
"Serving all kids" profiles the CAC in Sedgwick County, Kansas, where staff sought out extra training specifically to help kids with problematic sexual behaviors.
"Raising their voices" features Melanie Sachs, a family advocate in Massachusetts who uses the SHINE Campaign to lift up survivors' voices and show child victims the universe of support that stands ready to support them.
"A day to celebrate" is an inside look at the site visit process, when site reviewers evaluate whether to recommend a CAC for accreditation. If the CAC has done its homework, the site visit is a day to celebrate.
Other highlights from the 2019 Annual Report include:
How the CAC movement grew stronger in 2019—including a huge increase in abuse prevention services
Proof that caregivers and partners trust CACs
The progress we made together in 2019, from mental health initiatives to help kids thrive to the next step in ensuring all U.S. kids gain access to CAC services
A snapshot of what we've done so far in 2020, and what's coming next
And our thanks to our supporters, partners, and the many content experts who collaborate with us to protect kids
You can view the complete Annual Report, as well as reports from prior years, by clicking on the links below:
Prior Annual Reports
Children's Advocacy Centers make a difference in the lives of children each and every day.  And each and every day, NCA stands beside its members – now numbering  more than 900  and counting in all 50 states – to ensure that CACs, MDTs, and Chapter organizations receive the training, technical assistance, and support they need to better serve abused children in their local communities.
NCA works with its members to minimize trauma for abused children, break the cycle of abuse and hold offenders accountable by offering services in the following areas:
Accreditation
Community Awareness and Advocacy
Training & Technical Assistance
Funding
Membership
Read our annual reports to learn more about where we've been, and where we're heading—together.