Annual Reports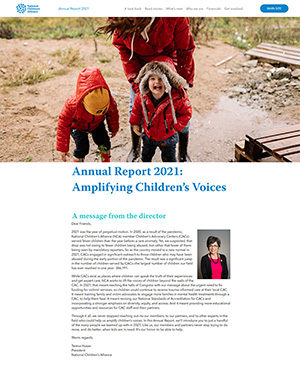 2021 was the year of perpetual motion. Children's Advocacy Centers (CACs) prioritized outreach to children who, as a result of the pandemic, had been largely out of sight of the teachers, school counselors, and other professionals who are most likely to report suspected abuse. The result of that outreach was a significant jump in the number of children served by CACs—the largest number of children our field has ever reached in one year: 386,191.
While our members provided child victims of abuse with expert care, NCA worked to lift the voices of children beyond the walls of the CAC, reaching the halls of Congress with our message about the urgent need to fix funding for victims' services, so children could continue to receive trauma-informed care at their local CAC. You were vital to our success, helping us amplifying children's voices.
In our 2021 Annual Report, we introduce you to just a few of the NCA members who help kids heal and thrive:
Along with highlights of our work in 2021, you'll also get a quick look at some of what we've accomplished so far in 2022 and what's coming next. View the complete Annual Report online now.
Prior Annual Reports
Children's Advocacy Centers make a difference in the lives of children each and every day. And each and every day, NCA stands beside its members – now numbering more than 900 and counting in all 50 states – to ensure that CACs, MDTs, and Chapter organizations receive the training, technical assistance, and support they need to better serve abused children in their local communities.
NCA works with its members to minimize trauma for abused children, break the cycle of abuse and hold offenders accountable by offering services in the following areas:
Accreditation
Community Awareness and Advocacy
Training & Technical Assistance
Funding
Membership
Read our annual reports to learn more about where we've been, and where we're heading—together.