Annual Reports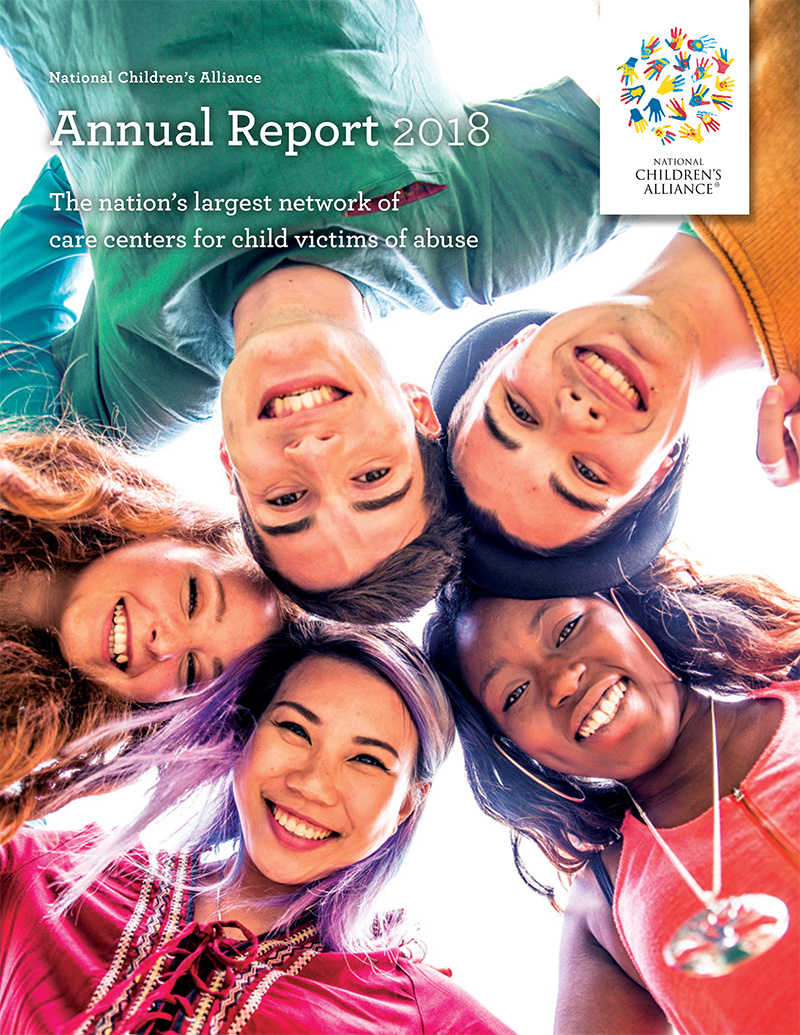 NCA's Annual Reports document the organization's growth and achievements over the years. This year, we're highlighting Stories from the Frontlines: profiles of CAC heroes all around the country, working to expand access to services and do more for kids, with NCA's help.
"No One Person Makes Up the Team" 
On Fort Peck Reservation in Wolf Point, Mont., the CAC developed a high-performing multidisciplinary team by keeping one thing in mind: It's not about them. All five team members said the same thing: They work as a team because that's what it takes to protect children.
"Everything but the Kitchen Sink" When NCA helped open the door to increased Victims of Crime Act (VOCA) funding for CACs, Baltimore Child Abuse Center (BCAC) saw this as the ideal opportunity to do more than just reach more children. From hiring more clinicians to developing programs for at-risk populations, BCAC has used VOCA funds to protect more children.
"The Systems Need to Work in Tandem"
At Dee Norton Child Advocacy Center in Charleston, S.C., the staff have spent more than a decade building relationships with their counterparts in the military—a response to the needs of military families NCA is leading nationwide projects to meet.
"When That Light Bulb Goes On …"
At Family Crisis Services of Northwest Mississippi, Inc., Tomiko Mackey has made a career out of leading people to that moment when what they've learned suddenly clicks. In the clinicians she trains through NCA's Thriving Kids Initiative, and in the public at large, she sees a growth in awareness that brings better outcomes for children and their families.
"Everybody's Heart Is in the Right Place"
The CACs comprising the Florida Network of Children's Advocacy Centers have a common mission: to protect all children in the state. The national model of all-for-one partnership NCA champions is deeply ingrained in the culture in Florida's movement.
Other highlights from the 2018 Annual Report include:
What we accomplished together in 2018, from shining a light on the power of survivors to boosting federal support for kids
How we improved outcomes for kids with better mental health treatments in more states than ever
Data demonstrating the value of CACs from more than 70,000 caregivers and partners
Where we're headed in 2019
Stats, acknowledgements, messages from our leadership & more
You can view the complete Annual Report, as well as reports from prior years, by clicking on the links below:
Prior Annual Reports
Children's Advocacy Centers make a difference in the lives of children each and every day.  And each and every day, NCA stands beside its members – now numbering  881  and counting in all 50 states – to ensure that CACs, MDTs and Chapter organizations receive the training, technical assistance and support they need to better serve abused children in their local communities.
NCA works with its members to minimize trauma for abused children, break the cycle of abuse and hold offenders accountable by offering services in the following 5 areas:
Accreditation
Community Awareness and Advocacy
Training & Technical Assistance
Funding
Membership
Read our annual reports to learn more about where we've been, and where we're heading—together.