National Statistics on Child Abuse
National Statistics on Child Abuse
Child abuse is a horrific experience with potentially lasting effects. It's also, unfortunately, a common experience in America. Here's a look at the scope of the problem.
The scope of the problem
Nearly 700,000 children are abused in the U.S each year. An estimated 678,000 children (unique incidents) were victims of abuse and neglect in 20181, the most recent year for which there is national data. That's about 1% of kids in a given year. However, this data may be incomplete, and the actual number of children abused is likely underreported.
Child welfare authorities ensure the safety of more than 3.5 million kids. More than 3.5 million children received an investigation or alternative response from child protective services agencies.1 An estimated 1.9 million children received prevention services.
How child abuse impacts kids
The youngest children were most vulnerable. Children in the first year of their life had the highest rate of victimization of 2.7% of all children that age.1
Child abuse is deadly. In 2018, an estimated 1,770 children died from abuse and neglect in the United States.1
Nationally, neglect is the most common form of abuse. Three-out-of-five (nearly 61%) of victims were neglected only, more than 10% were physically abused only, and 7% were sexually abused only. Yet the statistics indicate a more complex problem where children experience multiple forms of abuse. In 2018, more than 15% of kids were polyvictimized (suffered two or more forms of abuse).
Yet CACs serve far more sexual abuse cases, indicating a deeper problem. CACs investigated 243,039 cases involving sexual abuse allegations in 2019, fully 65% of all cases our members carried through.1 While not all these cases resulted in a disclosure, charges, or a conviction, it's an indication that the problem of sexual abuse may be much larger than federal statistics show.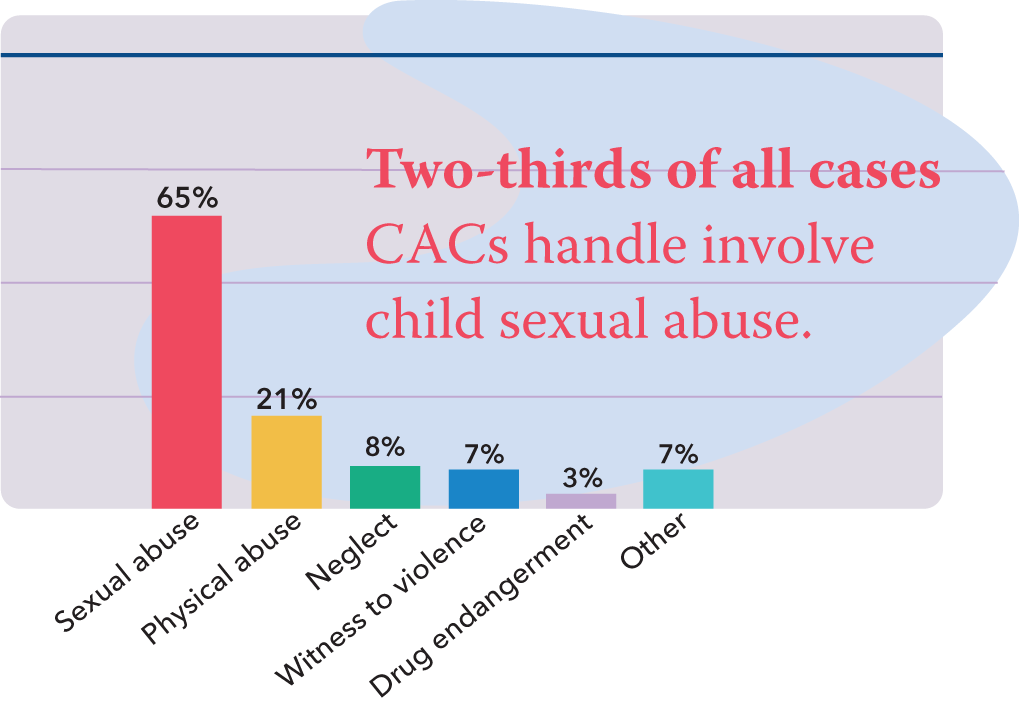 Where and how child abuse happens
Most child victims are abused by a parent. In substantiated child abuse cases, 78% of children were victimized by a parent.1
Child-on-child abuse is common. At CACs in 2019, 22% of people alleged to have abused a child were themselves children (in cases where we knew the age of the alleged abuser). 14% of the total were teenagers.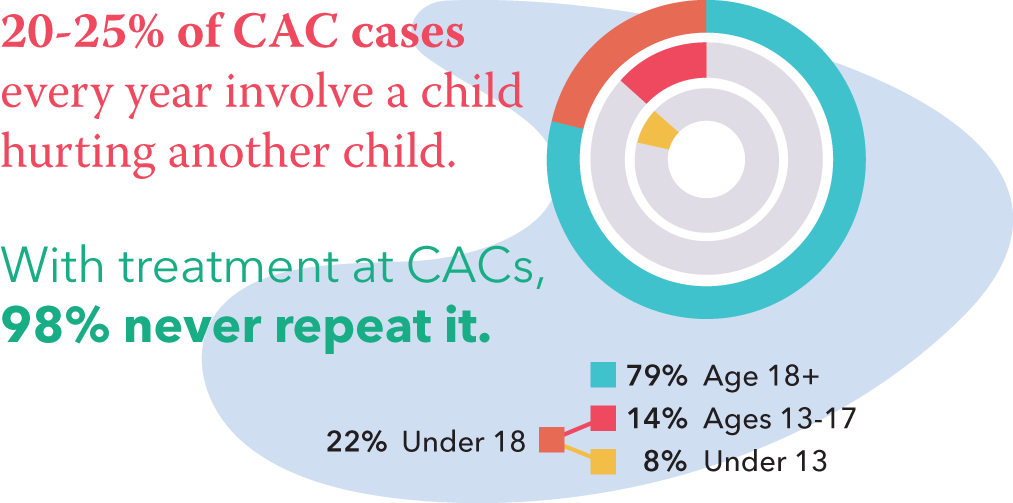 References2,3. Totals more than 100% due to rounding.
How CACs help kids
CACs serve more than 370,000 kids each year, helping them to recover.  In 2019, Children's Advocacy Centers around the country served some 371,0602 child victims of abuse, providing victim advocacy and support to these children and their families.
CACs heal more than 200,000 kids each year. Our members offer 210,113 kids science-backed counseling and therapy services to help them recover from trauma and avoid the lifelong impacts of trauma.
Kids with problem sexual behaviors get help at CACs. Treatments offered for children and youth with problematic sexual behaviors are successful; after treatment, 98% never go on to hurt another child.
CACs educate more than 2 million people each year, helping prevent abuse. We provided 2,294,935 people with abuse prevention education in 2019, up 288% in the past decade.
2019 Children's Advocacy Center Raw Statistics
---
1 National annual child abuse statistics cited from U.S. Administration for Children & Families, Child Maltreatment 2018. This data, released annually, is the most current federal data available. https://www.acf.hhs.gov/cb/research-data-technology/statistics-research/child-maltreatment
2 National Children's Alliance 2019 national statistics collected from Children's Advocacy Center members and available on the NCA website: https://www.nationalchildrensalliance.org/cac-statistics
3 Carpentier, M, Silovsky, J, & Chaffin, M. (2006). Randomized trial of treatment for children with sexual behavior problems: Ten year follow-up. Journal of Consulting and Clinical Psychology, 74, 482-488.
Caldwell, M. F. (2016). Quantifying the Decline in Juvenile Sexual Recidivism Rates. Psychology, Public Policy, and Law. Advance online publication. http://dx.doi.org/10.1037/law0000094