Join us to Fight toward Everlasting Peace for Kids!
Our streamer ambassador, Bradderfield, is leading a Mega Man event to celebrate this franchise and make the world a better place for kids. Start your campaign today!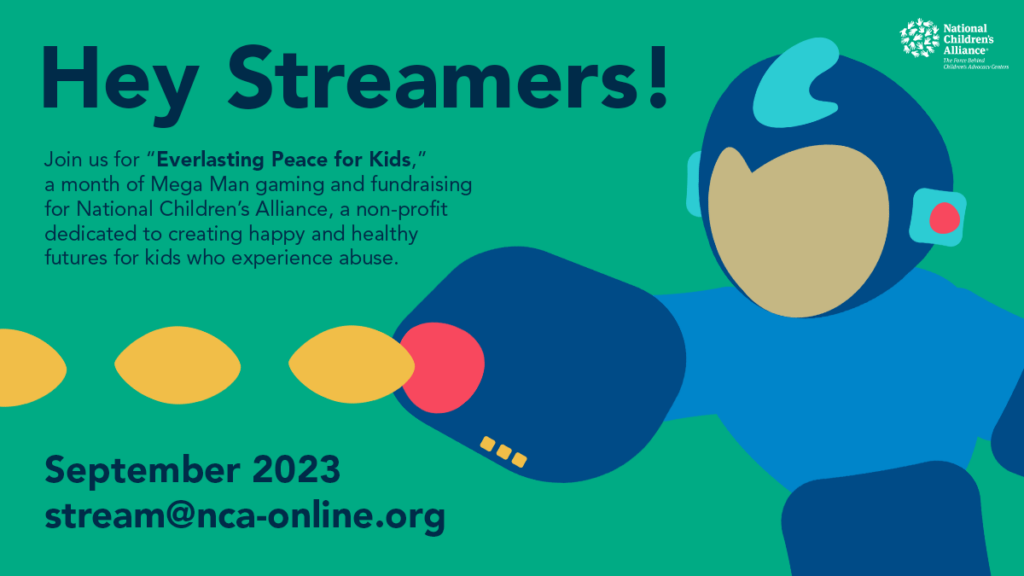 If this timing doesn't work for you, please come back in October to register for our December event, SAY IT LOUDER.
Bradderfield (he/him)
Bradder is a variety streamer, announcer, voice actor, and speed runner. He loves running crowd control to raise money for a good cause. Fun Fact: Bradder has fundraised for every NCA event so far.
Lanieloveee (she/her)
Lanie is a variety streamer, licensed therapist, anime fanatic, and dad joke connoisseur. As the event manager for the stream team, Sistas of the Fog, Lanie loves rallying others to make change.
Meganhertz (she/her)
Megan is a community-focused, chatty, RPG streamer, game collector, and lover of STEM. She welcomes conversations on mental health, and enjoys organizing events to uplift powerful messages.
Streaming Resources
Join us in the fight against child abuse! If you're interested in joining, sign up below and utilize the resources to get started.
Please e-mail stream@nca-online.org for any questions or assistance.
Registration is closed. Please come back in October to register for SAY IT LOUDER!
You can fundraise for NCA all year round by creating a campaign on Tiltify!
Viewers can donate to influence your game live on stream.
Hop on our Discord server to coordinate your effort with other streamers from around the world.
Fundraise for us at any time and give us a tag so we can promote your tweet!
Here's our full collection of visual brand assets to make your own graphics and promote your fundraiser!
Our Stream Sponsors
National Children's Alliance is seeking Corporate Sponsors for our online fundraising events in April, July, and December.
If you're a business who wants to show your consumers how much you care about protecting kids, send us an inquiry: development@nca-online.org
Get your name out in front of the communities of our hundreds of online influencers and content creators!