Four-legged support: Working with Pecos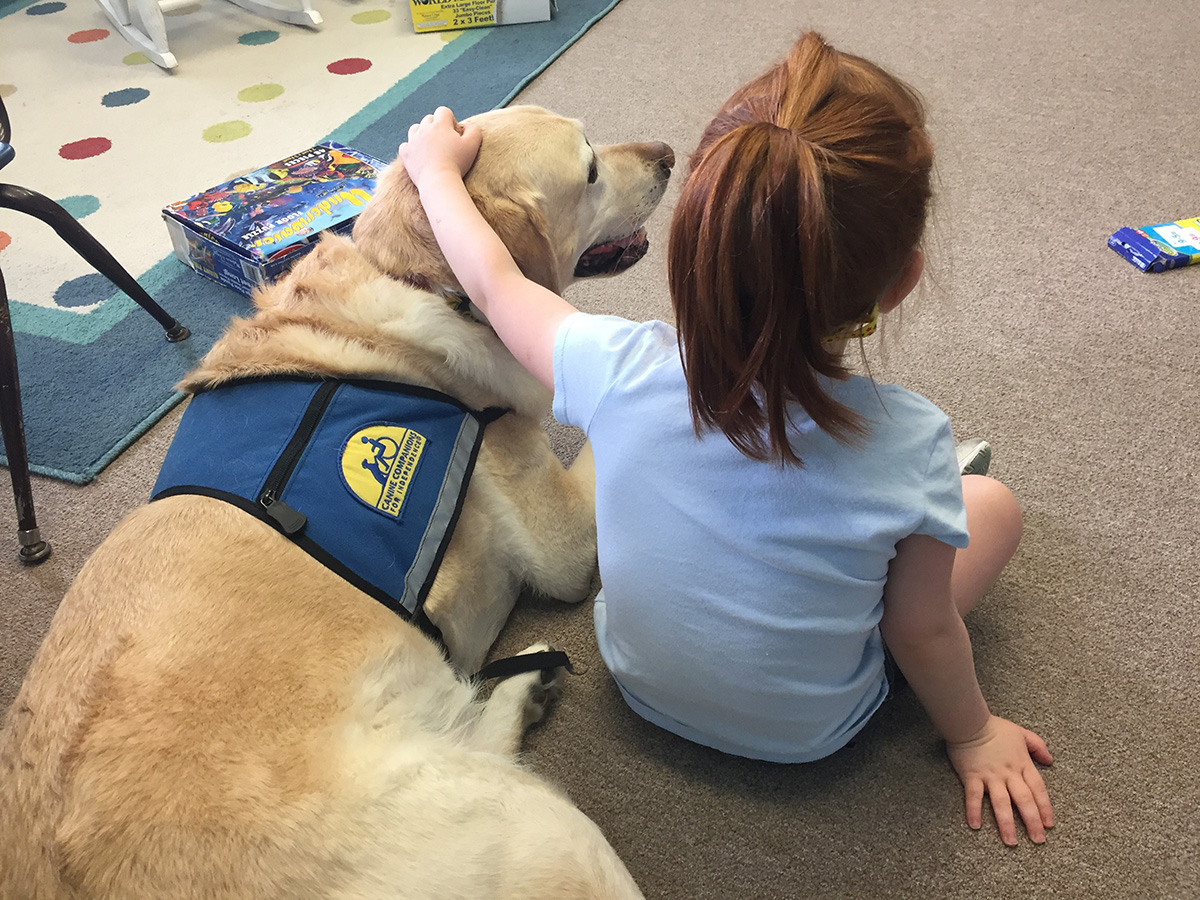 Animals are such agreeable friends―they ask no questions, they pass no criticisms.―George Eliot
Throughout history, humans have relied on canines to assist in many tasks. Herding, guarding, scent work, and companionship are all duties that dogs have accepted and excelled at. I believe passionately in the human-animal bond, having witnessed firsthand the comfort that animals provide to people in need, as I imagine many Children's Advocacy Center (CAC) professionals have. In my efforts to strengthen this bond for abused children, I learned there is a way to provide the support of a canine using best practices to ensure safety of both the child and the dog is crucial.
In the CAC setting, professionals should seek out a facility dog that has graduated from an assistance dog organization accredited by Assistance Dogs International. These dogs can provide support to all children, including children with disabilities or who are otherwise unable to issue commands or requests. This accredited training and handling is important, as is proper training for the handlers working with the dog. After all, your facility dog will become a canine CAC professional, providing crucial services to vulnerable children and families involved in the investigation and prosecution of crimes and other stressful legal proceedings.
In 2011, I was paired with Pecos, the first facility dog in Virginia. Since then, he has provided thousands of hours of support in forensic interviews, medical exams, therapy sessions, multidisciplinary team meetings, and court proceedings. The professional training that Pecos received from Canine Companions for Independence provided me the freedom to focus on my area of expertise—child abuse. I relied on the professional dog trainers to teach me about canine behavior. Combining the knowledge bases proved to be critical for abused children in Virginia and ensured that Pecos and I were providing safe and appropriate support as cases moved through the criminal justice system.
In 2018 the Association of Prosecuting Attorneys and the National District Attorneys Association issued resolutions describing the best practices when implementing a facility dog program. The American Academy of Pediatrics mentions the use of specially trained facility dogs to assist children in the courtroom. There are scholarly articles that show the correlation of the human-animal bond and the positive impact on blood pressure and heart rate.
Clearly, this movement is gaining momentum. If you are considering a facility dog program, please consider utilizing best practices. This can be stressful work for humans and the dogs. Facility dog handlers are an advocate for the dog as well as for the children and families they serve. This includes being mindful of their dog's physical and emotional state while at work, being knowledgeable about signs of stress in a dog and taking action to prevent or reduce it, and ensuring positive interactions between the dog and staff to make this work environment more enjoyable for everyone.
Along my journey with Pecos, I learned from Canine Companions for Independence, Courthouse Dogs Foundation, and Assistance Dogs International, and the brave children that shared their stories with us. Dogs are somewhere between a tool and a colleague, and they can become not only an indispensable part of your CAC's response, but also a delightful and friendly face for your agency. Here's to the facility dogs that become part of our story of hope and healing.
---
Michele Thames is executive director of SafeSpot Child Advocacy Center, an Accredited CAC in Fairfax, Va. Michele and Pecos participated in a study of children's stress during forensic interviews with and without a facility dog present. The results were published in the Journal of Child Sexual Abuse, and discussed by NCA in a message to members in April 2018.