Keeping Kids Safe for the People Who Protect Us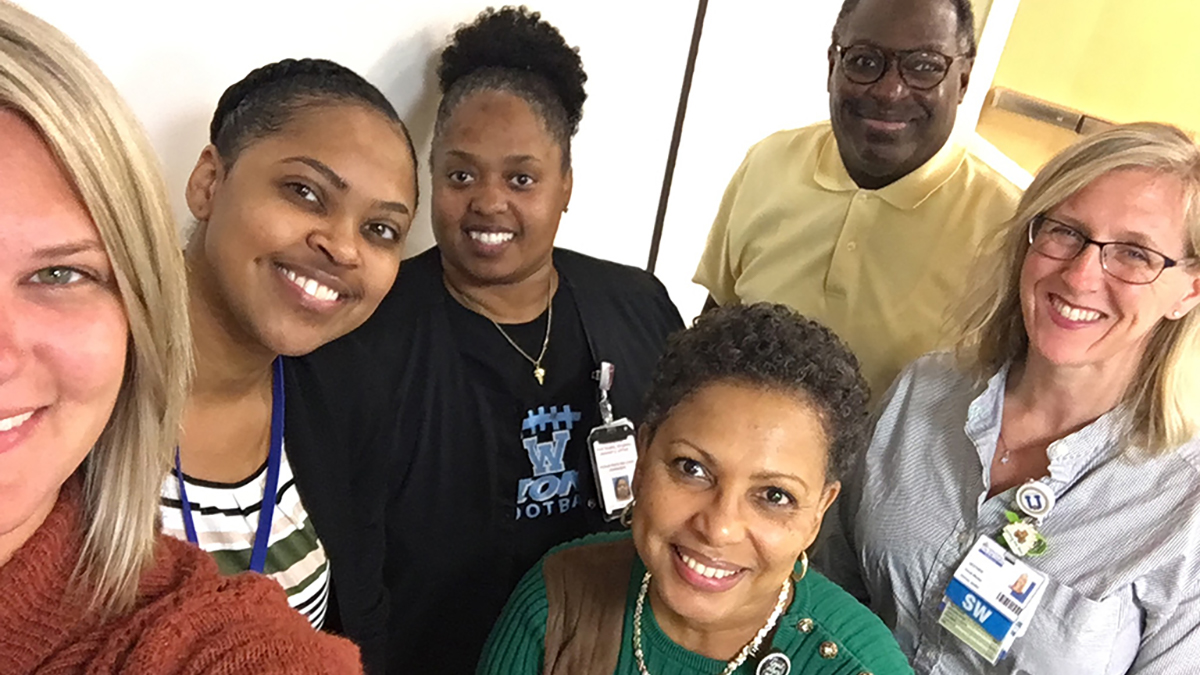 Teaming up to help kids, above from left to right: Jen Howe, CHKD forensic interviewer; Quiana Bradley, CHKD therapist; Brandy Etter from McDonald Army Hospital; Jackie Johnson, CHKD case manager; Louis Heyward from the Army Family Advocacy program; and Heather Larkin, CHKD medical social worker.
National Children's Alliance prioritizes developing strong relationships between Children's Advocacy Centers (CACs) and local military installations. When kids in military families are the victims of abuse—or there's a suspicion of abuse—it's important that both the civilian system and the military system know how to work together. At the Children's Advocacy Center in Norfolk, Virginia, the CAC-military partnership is an example of how collaboration can work.
The CAC has multiple military multidisciplinary teams (MDTs)—investigative teams as well as their equivalent Family Advocacy Programs (FAPs) from the Army, Navy, Coast Guard, and Air Force bases located there. The CAC itself is a hospital-based, freestanding facility located on the campus of the Children's Hospital of The King's Daughters (CHKD) in Norfolk.
What does it mean to have a CAC located with such a large military presence? "First, you can't help but be aware and respect the hard work of our men and women in uniform," says Erinn Portnoy, LCSW, executive director of the CAC. "And second, how important cross-training is for understanding the vernacular, nuances of each branch and various rules of the investigative and legal process."
When the pandemic hit, the CAC's mental health program pivoted to being completely online—beginning with screening, and then adding assessments, therapy, and finally measurements. The CAC was able to use NCA's educational offerings and resources to help get up to speed. While the CAC had initially been resistant to the idea of telehealth before the crisis, they discovered it had advantages, particularly for working parents and for military families with a parent on active duty. Telehealth provides a way to involve parents in therapy who might not have had the ability or flexibility to do so before. And the FAPs have been helpful in distributing equipment and encouraging participation among military families. "Strong relationships are the key," says Portnoy. "Whether you are talking about military partners or agency partners, it's all about building trust and working together. And we owe our military at least that much—they do the hard work of keeping us safe abroad and at sea, so let's do the work of keeping their kids and families safe at home."