NOTE: To protect the confidentiality of child survivors of abuse, NCA never uses photos of the children it serves. The photos below do not depict actual child survivors and are for illustrative purposes only.
Bethany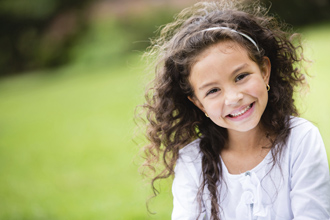 Bethany is seven now.  Like many girls her age, she loves princesses and anything that sparkles.  She is an only child.  Her mom, Linda, worked before she had Bethany, but opted to stay home after that.  By the time Bethany was about three, Linda was feeling fairly depressed and isolated, so Bethany's dad, Ben, arranged his work schedule so Linda could have two afternoons a week to pursue her own interests.  Soon, Ben started encouraging Linda to take even more time away from home – evenings and weekends.  Ben quit his job and began working from home.  Linda was happy for the break, and proud of how close Ben and Bethany were.  They made up elaborate games together, and Linda would often find them whispering secrets to each other.  They even made up their own code language.
And then Bethany turned six, and Ben and Linda enrolled her in kindergarten.  Life changed in an instant.  Bethany was different.  She began to be defiant with Ben; reports started trickling in from the school about her aggressive and inappropriate behavior.  And then the unthinkable happened – Linda got a call from a child protection caseworker asking her to come to Bethany's school so that they could all go to the child advocacy center together.
"I felt like my whole world collapsed," says Linda now.  Her eyes take on a faraway look.  "I know I drove to the school, and I know I went with Bethany and the caseworker to the advocacy center, but I have no idea how I got from here to there.  It was all such a blur."
When they got to the advocacy center, they were met by a victim advocate.  "She told me that she would help me through this, that I wasn't in it alone.  I don't remember a lot of what she said, but that stuck."  In the interview, Bethany disclosed that her father had been sexually abusing her – that the "games" were always a precursor to abuse, and that the code language was really a way of keeping it secret from Linda.  What Ben didn't count on was that Bethany would try to play the same "games" with her friends at school – they were, after all, her "normal" activities.   After several incidents, Bethany's teacher sat down with her to say "this isn't ok" – to which Bethany responded "it's ok with my daddy.  This is what we do."
Ben is now in jail, where he will be spending the bulk of his adult life.  Linda and Bethany sold the house, switched her school and started a new life – but not without a great deal of support from the advocacy center.  There, they were able to work with mental health professionals trained to treat this exact kind of trauma.  Linda credits the center with her own recovery.  But even more importantly, she notes, Bethany couldn't have made it through without the help and support she received from the staff at the center.  "Ben tried to steal Bethany's childhood from her.  The advocacy center gave it back."
Detective Joan S.
Detective Joan S. joined the police department right out of college, nearly 30 years ago.  Det. S is small and compact, exuding an air of toughness, but quick with a smile.  "I found my niche pretty quickly after joining the force," she says.  "I love working with kids.  They like me and trust me, and I can always get them to open up."  Long before there was a child advocacy center in her jurisdiction, Det. S was interviewing kids.  "My department wouldn't pay for training, so I used my own money and got trained using my vacation days.  Everyone thought I was crazy, but it was worth it."
For a long time, there was no Crimes Against Children or Special Victims' Unit in her department – she was it.  "I did it all because no one else wanted to," says Det. S.  "Here were all these tough guys who could work homicides and undercover drug raids, but they were scared to death of working with kids."  Her eyes twinkle as she reminisces.  "Then, about 12 years ago, our DA went to a conference.  When he came back, all he could talk about was the CAC model."
At first, Det. S was adamantly opposed.  Even as support for the idea grew, and even as the community established a multi-disciplinary team, Det. S stood her ground.  There was no way she would give up control of her cases – and even more unthinkable was the idea that a caseworker would be an equal partner in the investigation.  She laughs now when she recounts how angry she was.  "I was like Yosemite Sam, stomping my feet with smoke pouring out of my ears.  I kept shouting about civilian interference in a law enforcement investigation."  Not too long after that, she got a call from a caseworker about a child who was thought to be living in a drug house.  The caseworker had a long history on the family, but didn't have any information about their current situation, and was worried about stepping in and possibly ruining a drug-related investigation.
"Long story short, we started working the case together.  I'm not very good at admitting when I'm wrong, but it really dawned on me – this caseworker's information was invaluable.  And I started to see just how wrong I was to resist the idea of multidisciplinary teamwork," says Det. S.  Now, she is the advocacy center's staunchest defender.  "I was on their founding board; I was on the selection committee for their first forensic interviewer; and I do the training for the new detectives and caseworkers on how and why they should be using the advocacy center."
Why the turnaround?  "Because it works.  Because we have better investigations, better disclosures, fewer interviews, better outcomes at trial – but none of that is as important as how well it works for the kiddos.  They aren't scared and they're treated with respect.  And they get services long after my part and the caseworker's part is over.  That's what matters most."  Just last year, to come full circle, the advocacy center named an award for excellence in service after Det. S.  "Sometimes," she says, eyes twinkling again, "being wrong is the best thing that can happen."
Darrell
Darrell was 18 when he got his girlfriend pregnant.  She moved in with his family, but after the baby was born, tensions rose, and soon thereafter, she and the baby moved out.  "I had some contact with my son, but not a lot," says Darrell.  "I wasn't really in a place to be a father."  As his son, Jordan, got older, contact became less and less frequent until it stopped altogether when Jordan was about four.  Darrell heard through the grapevine that his ex-girlfriend, Jordan's mother, had a drug problem and that she was spending time on the street, but in his own words, "it was easier not to think about it."  In fact, he didn't think about it for nearly two years.
"There were days when I wanted to give up.  But no matter how low I got, thadvocate from the CAC was there for me.  I know we're going to make it now – and I know that's true because of what the CAC did for both Jordan and me."
One day, Darrell came home and found a caseworker's business card wedged into his screen door.  On the back was a note, asking him to call.  When he did, he heard a tale of horrific neglect that had been his son's life for the past two years.  He learned that Jordan's mother was in jail for prostitution and intent to distribute, and that she had a serious addiction problem.  He learned that his son had been bounced between motels and crack houses, left in the care of virtual strangers, and abused.  He learned that much of the information had come out during the forensic interview at the child advocacy center, and that Jordan knew more than any six year old should about smoking crack – in fact, he'd drawn a picture of someone "cooking."  Next the caseworker asked Darrell if she could assess him for placement, see his home, run a background check, etc.  "I remember thinking at the time that I was about to become a father – for the second time, with the same kid.  It was weird," says Darrell.
Parenthood isn't exactly easy – overnight parenthood even less so.  Darrell knew he would need a great deal of help.  He found that help through the advocacy center.  The victim advocate helped him find a therapist for Jordan, and a second one for them together.  She helped him track down parenting classes, an education advocate and get set up with medical care.  And beyond that, she was a sympathetic ear when he needed one.  "Jordan still has a long way to go.  He struggles every day with the demons from those years.  There were days when I wanted to give up.  But no matter how low I got, the advocate from the CAC was there for me.  I know we're going to make it now – and I know that's true because of what the CAC did for both Jordan and me."