Meeting the Needs of Kids in Crisis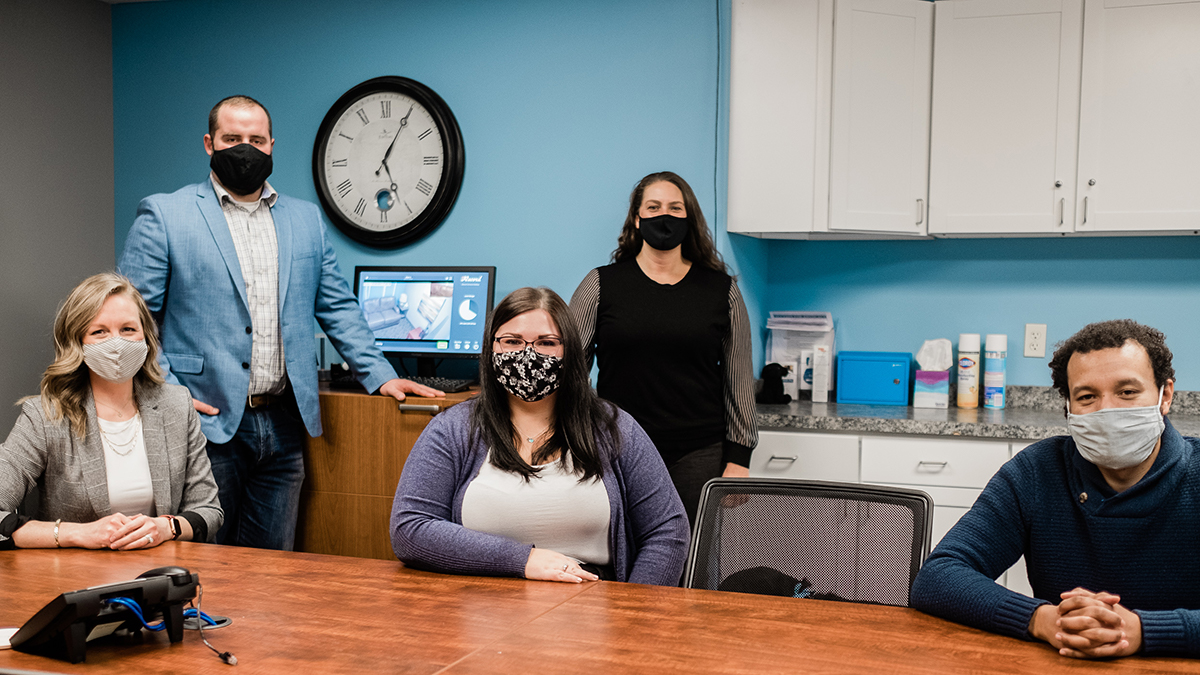 Above, left to right: Megan Bryant, Thomas Grieb, Aubree Vance, Annie Harrison, and Alex Brace in the room at Small Talk where, pre-pandemic, the multidisciplinary team would meet.
When the pandemic first prompted a wave of shutdowns across the country, most of us assumed we'd be back in the office before too long. When it became clear that this wasn't a short-term situation, CACs had to figure out how to deliver vitally important services to child victims of abuse. NCA staff pivoted to assembling the information and resources CACs would need to operate safely. As the public health crisis continued, forensic interviews of kids were a key concern.
Traditionally, forensic interviews are conducted in person. This interview obtains a child's statement that may be used in a criminal case against a suspected abuser. And forensic interviewers are trained to ask questions in ways that will not retraumatize a child. But the pandemic made in-person interviews problematic.
On Friday, March 13, the staff at Small Talk Children's Advocacy Center in Lansing, Michigan, had gathered for a wellness day, hoping to decompress a bit. Instead, they spent the day figuring out how to operate with a minimal number of staff and clients in the office. Six days later, they shut down completely. Counseling services could be delivered using telehealth technology, according to Small Talk Executive Director Alex Brace, MS, LPC, allowing Small Talk to minimize the number of staff in the office. "But the forensic piece was a little bit more difficult."
Before the pandemic, the team at Small Talk had heard of teleforensic interviewing. Brace, along with Annie Harrison, a detective with Ingham County Sheriff's Office and president of the Small Talk Board of Directors, were both part of the Governor's Task Force on Child Abuse and Neglect in Michigan and had met Dr. Debra Poole, who along with Dr. Jason Dickinson and Dr. Nicole Lytle, had been researching using telehealth technology to conduct forensic interviews. But actually conducting interviews remotely seemed like something the CAC might do in the future—maybe when a child was too far away to come to Small Talk in person. Then another detective called Harrison to say a forensic interview had been canceled multiple times, and the detective was afraid that if they didn't conduct the interview soon, the kid wouldn't want to talk anymore. They needed a new plan.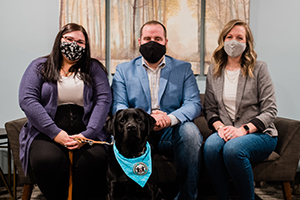 The decision wasn't made lightly, and it wasn't made by Small Talk staff alone. Aubree Vance, lead forensic interviewer and prevention specialist, said that the entire multidisciplinary team (MDT) needed to be part of the decision. And "we knew we needed to have that research in, and we knew we needed to make the best decision possible that we could to ensure that these forensic interviews were still admissible and still defendable. We spent many hours researching it and going over what this would look like and how this would play out." Small Talk conducted its first teleforensic interview in mid-May, after getting buy-in from their MDT and talking to prosecutors and a defense attorney to make sure interviews conducted this way could be defensible in court. "It doesn't substantively change what a forensic interview is," Brace says. "It just looks a little bit different."
"We weren't trying to reinvent the wheel," agrees Thomas Grieb, intake coordinator and forensic interviewer. "We just had to adapt the way we were providing the service." Small Talk worked out a system that still had the child and a caregiver or other support person come to the CAC. They try to limit it to just one support person, but sometimes a parent has to bring other kids along. But interviews are scheduled so the family has the waiting room to themselves. Then the kid goes back to the room that they'll have to themselves and shown the computer with a camera that will record the interview. Both Vance and Grieb are there—when they first practiced doing interviews, they decided that it would be best to have one of them conducting the actual interviews and the other in another monitoring the recording and dealing with tech issues. "That way the interviewer can focus on interviewing," Grieb says. And the MDT can monitor the interview remotely.
At first, Family Advocate and Canine Handler Megan Bryant worked remotely, talking with the caregiver over the phone. Then she started noticing that the phone calls were rather short, and the conversations she had with caregivers weren't as in-depth as they had been when she saw people in person. "I think a lot of this had to do with the fact that I was calling over the phone." Caregivers "were sitting in the lobby in kind of more exposed area—they didn't know if somebody would be coming in or out." She brought her concerns to the team and now comes in to the office and, while the child is being interviewed by Vance or Grieb, takes the parent to a room large enough for social distancing to go through the paperwork and talk about the process. Caregivers "really just kind of unload and feel the emotions that they're feeling while they're there with us."
In late summer, Bryant was joined by Loki, a black Lab who works as the CAC's canine advocate. Thanks to a six-foot leash, Loki is able to sit with kids when needed, and help soothe them.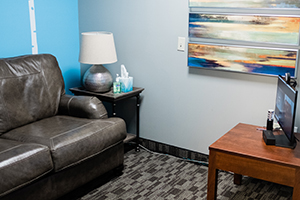 How has the process worked? Really well. The interviewer does take extra time in the beginning to build rapport with the child—it takes a little more time via computer than it would in person, according to Vance. "And the pace of the interview is a little bit slower than it would have been in person just to give time for any connection lags or to give the child or the interviewer some of that extra time to process in this format." But otherwise, they haven't had any issues.
In fact, many of the kids feel more in control having a room to themselves. The team has seen kids kick off their shoes in the interview room. One girl turned cartwheels. And some kids are curious enough about the camera and computer that the interviewer ends up with a close view of the kid's nose. Grieb says, "It was like, all right, I'm just gonna roll with it and I'll keep talking to you that way."
If anyone felt discomfort, it was the interviewers, who had to adjust to using the technology. Harrison said that, initially, there was fear that they wouldn't be able to develop rapport with kids via computer, or they'd have issues with the technology, or kids would be uncomfortable and not disclose. And there were smaller adjustments to be made: "the way you convey empathy sometimes needs to be a little bit different," Harrison says. "You have to be cautious of the still face on the screen, you do have to have some movement, and you have to really practice that 10-second pause." But they've adapted and fallen back on their training as forensic interviewers. In fact, she says, one caregiver was looking at the interview setup and, when she saw Harrison on-screen, immediately said that her teenager was going to love it.
Even young children can feel supported and comfortable using the tele- format. Grieb was interviewing a girl, maybe 6 or 7 years old, when it came to the part of the process where they take a break and he checks with the MDT. The little girl wanted a toy or something to entertain herself. Grieb gave her his notepad and pen to draw with, then went to check with the team. When he came back to his computer, he noticed a piece of paper on the floor. It was from the little girl, who had scribbled some loops on the page. "What is it?" he asked her. "It's some words," she said. "Tell me about the words," he said. And the little girl said, "It means that you're the greatest person in the world."
Will the team continue to use teleforensic interviewing after the public health crisis has passed? They all agree that in-person interviews will resume, but they pose the question that Dr. Poole had posed to them: What if children could choose? Executive Director Brace says, "This is a really great tool," and one they will keep in their toolbox to use when it is needed. "For a child to sit with a trauma they have, and they're ready to speak, we need to provide the opportunity for them to do that. However we achieve that—whether that is in person or that is over a virtual platform, we're dedicated to meeting that need for every child who requires our services."
Brace says he's never been more proud to be director of Small Talk, or to be working with this group of people. "It's been hard for all of us, and to see everyone just go for it and take that leap—all with this child-centered mentality—is incredible."
Related content
Listen to our podcast interview with Dr. Debra Poole and Dr. Jason Dickinson about their research into teleforensic interviewing. Before anyone had ever heard of COVID-19, these professors from Central Michigan University and Montclair State University were examining whether forensic interviewers could use telehealth technology to connect with children in remote or rural service areas in cases where child abuse was suspected. Are teleforensic interviews as accurate and effective as face-to-face interviews?