Status of CAC-Military Partnerships 2019
Children's Advocacy Centers and the Military: Where We Are, and Where We're Going Together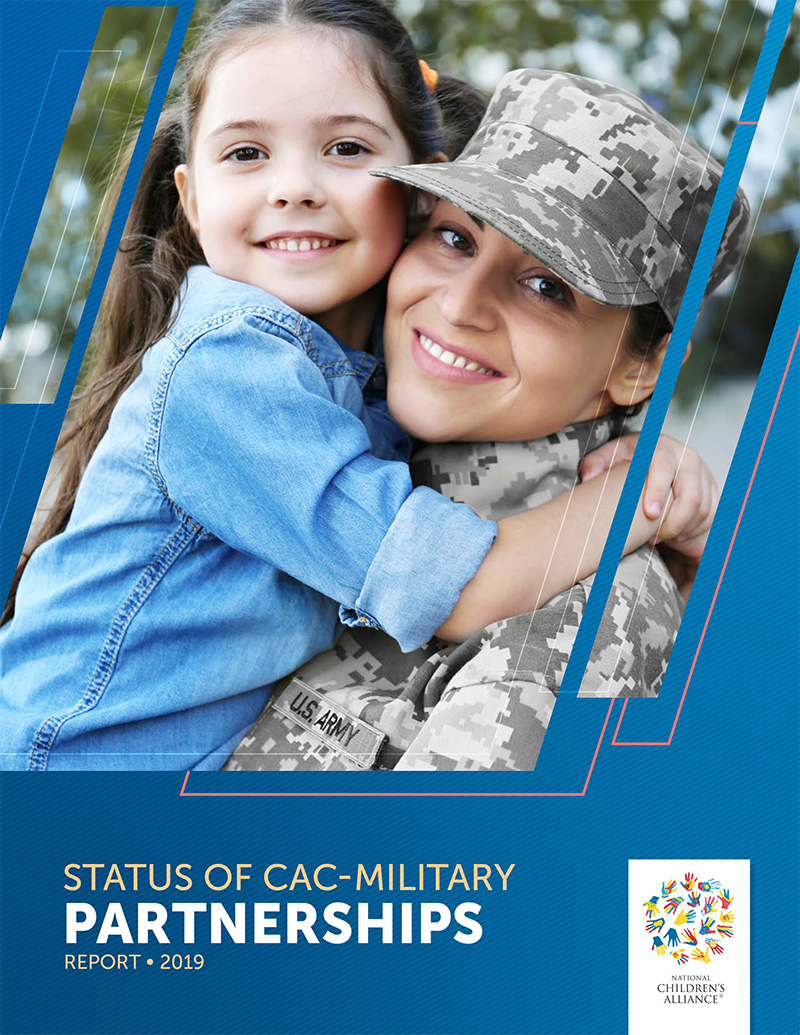 While some 900 Children's Advocacy Centers in the United States coordinate the critical multidisciplinary services that child abuse victims need to heal, many children from military families experience barriers to receiving those services. Yet early successes in partnerships between CACs and military installation leadership can serve as a model to improve coordination and serve military families better.
We have a roadmap to ensure every military family has access to the services they deserve. Read our new Status of CAC-Military Partnerships 2019, NCA's report to Congress on the needs NCA, CACs, Congress, and the military are working to meet together, plus highlights from critical pilot programs nationwide and the status of CAC partnerships with the military in all 50 states.
What's inside
In the report, you'll learn the results of our survey of 781 CACs and 165 military Family Advocacy Program (FAP) offices, and more:
An introduction to the unique needs of children in military families and the military response to child maltreatment.
A summary of the benefits of CAC-military partnerships in serving child victims of abuse from active-duty military families.
Key findings on the status of CAC-military partnerships nationwide and by state.
Public policy and practice recommendations to support development and enhancement of CAC-military partnerships.
An overview of the resources and tools

NCA is creating to support CACs in developing relationships with military partners.
How CACs can use this report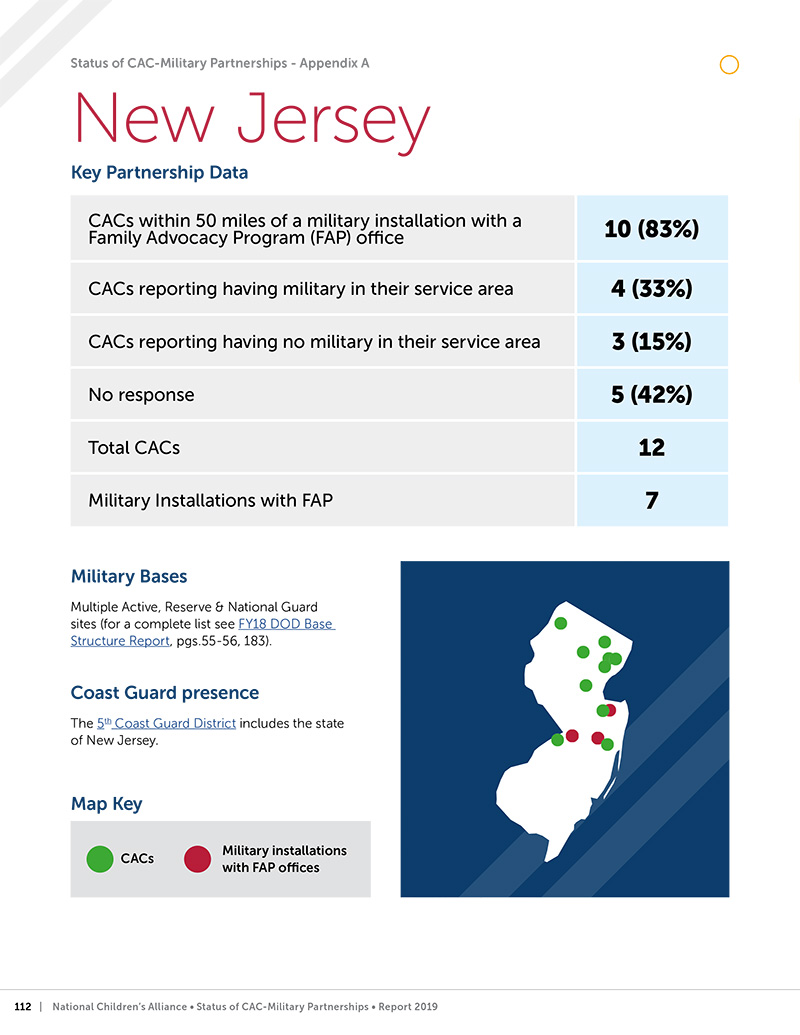 If your CAC is within driving distance of a military installation—even if that installation itself is not in your service area—you may be serving military families, because many of those families live off-base.
Use the information and links provided in the report's State Snapshots appendix to determine the proximity of military installations to your CAC.
Discover how your CAC compares to others in your state and the country when it comes to partnering with military colleagues.
Identify CACs in your area that have existing relationships with military partners and reach out to them for guidance.
Use the context and background this report provides to inform your grant application for coordination of CAC services for military installation projects.
Share the report with MDT members and consider screening for military affiliation at intake and tracking this information with other demographic data.
Chapters can use their state information to identify CACs with robust military partnerships and those that may need support beginning such relationships, and to develop statewide strategy.
Utilize the report in state and local legislative advocacy efforts.
For more information about partnerships between CACs and the military, including NCA's work with Congress to strengthen them and grants to help CACs, contact our Coordinator for Services to Military families: Heather Provencher at hprovencher@nca-online.org.