Call for grant reviewers suspended, with our thanks
Thanks to an overwhelming response to our recent request for help, we are suspending our call for grant reviewers. We had hoped to get enough interest to lighten the load on grant reviewers, but we didn't expect this many of you to respond, and to respond so quickly. Thank you so much! We are going through the submissions right now and will start contacting people soon.
National Children's Alliance  FY2024 Call for Grant Reviewers
Are you a subject matter expert who is interested in reviewing the strengths and weaknesses of applications for NCA grant funding?  
Then we want you to join us! 
NCA's Grants Management Department is actively seeking qualified grant reviewers whose skills, training, and expertise correspond with this year's topic areas.   
Deadline to submit:
Friday, August 18, 2023, at 11:59 p.m. EDT (before midnight)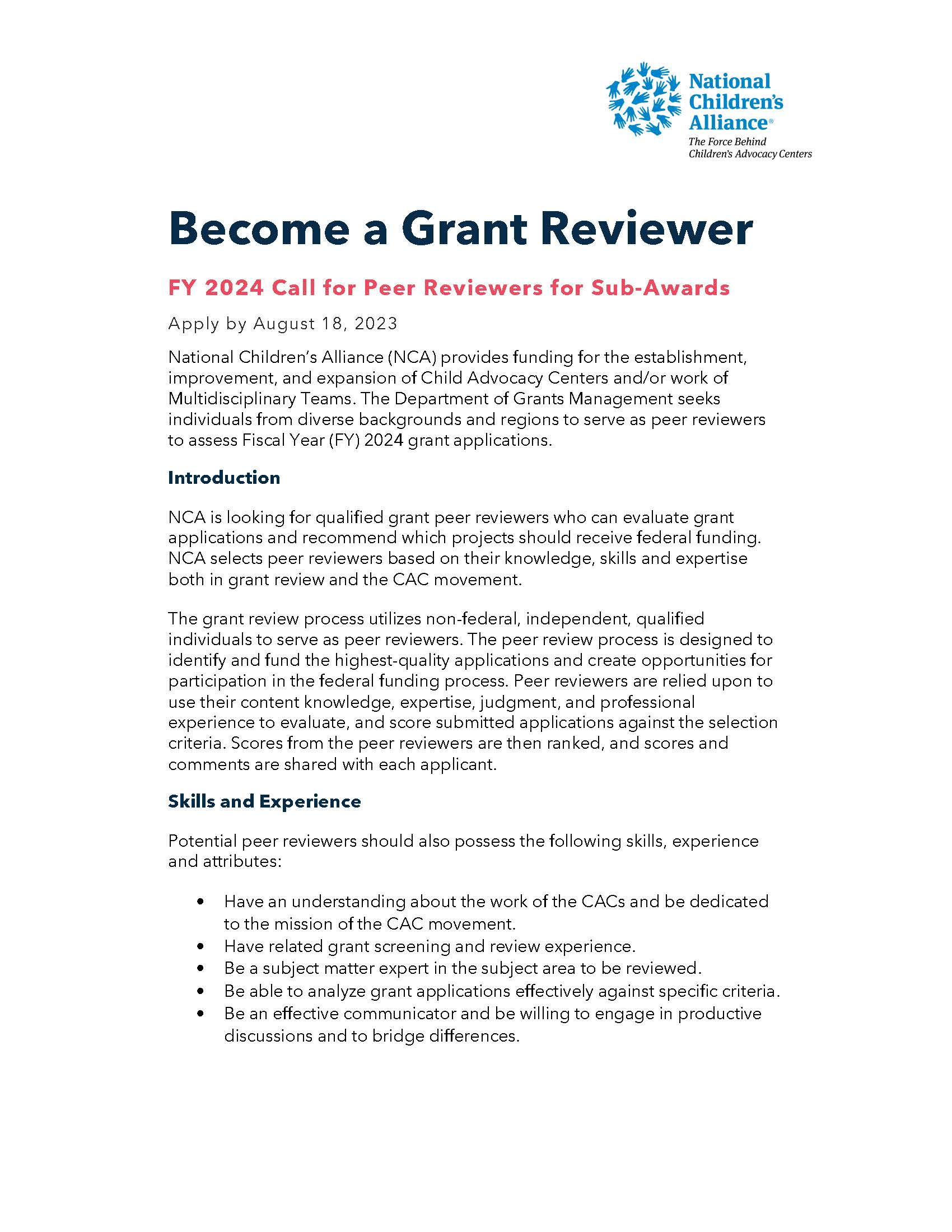 Reviewers with the following skills and/or experience are encouraged to apply:
Work at a Children's Advocacy Center (CAC), State Chapter, or partner agency

Work

in the provision of direct services at CACs: mental health, medical, forensic interviewing, victim advocacy, law enforcement, and child protective services

Work

in management, finance, or other grant-related positions

Work as a CAC/multidisciplinary team board member

Work at an NCA partner or victim service agency and have grant screening and review experience
An extra emphasis this year will be on seeking the following experts in our field:
Professionals with experience working at a rural CAC and/or in an unserved/underserved area, including rural, tribal, and frontier communities and areas with diverse populations

Professionals with experience applying for the next development step in the CAC accreditation model, to include developing a new CAC or

establishing

an NCA Satellite location.

Professionals who are familiar with CACs with smaller operating budgets or CACs with limited staffing and financial resources.

Professionals with military/Family Advocacy Program/National Guard experience who are familiar with the CAC model

Professionals who work with American Indian and Alaska Native (Indigenous) communities

Professionals whose

expertise

relates to victims of child sexual abuse materials and child sex trafficking
How to Apply
Follow the steps below to become a grant reviewer for 2024 grant applications. Both steps must be completed.
Complete our

Interest Form

Email your resume to Stacy Cooks, NCA Grants Management Administrative Assistant, at

scooks@nca-online.org

 

 
Selection notification:
Following the receipt of your interest form and resume, the Grants Management team will be in touch with you about next steps. Outreach will take place in August and September 2023.  
National Children's Alliance solicits peer reviewers without regard to race, color, national origin, gender, age, or disability. Reasonable accommodations will be made for a qualified individual with a disability so that individual might participate in the peer reviewer application process. If you require a reasonable accommodation to apply to participate in this review, please contact Grants Management Administrative Assistant Stacy Cooks at scooks@nca-online.org to ensure we can properly facilitate the application process. 
The NCA peer grant review process assures independent, unbiased, and timely review of the applications from CACs and Chapters.  If you would like to become part of the team of professionals assuring the utilization of the available funding through NCA, apply now. You will receive a small stipend for each reviewed application.